eCommerce development in Rawalpindi
Shop with ease, sell with success
Sol freaks is a leading web development company offering eCommerce development in Rawalpindi. We provide a comprehensive selection of web-based services to regional and global customers interested in maximizing internet use.
Sol Freaks is aware of the fact that skilled developers don't just write unique code; in addition, they offer clients technical aid and direction, which helps to maintain the clients' faith in them. We are proud that we can produce design and technology that results in highly integrated, user-friendly, and flexible solutions that further expand our client's capabilities.
Regarding our client's website, Sol Freaks is well aware of the significance of top search engines. SEO, or search engine optimization, is a tool that can help any website enhance the amount of web traffic it receives and gain awareness on a global scale. We have also worked on many eCommerce website tasks to transform them into websites that are friendly to search engines. When our customers noticed a significant difference in website traffic, they expressed gratitude to us.
Our eCommerce development options
Sol Freaks has been of immense help to many businesses in the increasingly competitive world of ecommerce by concentrating on delivering the most cutting-edge and user-friendly solutions currently available on the market. Sol Freaks has the experience and the technology necessary to assist you in becoming successful, regardless of whether you are just beginning your eCommerce business or trying to take it to the next level.
You can also establish a unique and intriguing online store with the help of Sol Freaks, which provides a variety of editable templates and themes. Our team of creative experts can assist you in creating the ideal online store to complement your brand and cater to the requirements of your clientele, regardless of whether you choose a design that is contemporary and minimalist or one that is more conventional and classic in appearance.
We provide our customers with various choices for eCommerce development in Rawalpindi, such as custom website development based on templates and integration of pre-built eCommerce platform solutions.
Custom eCommerce Website Development
Our custom eCommerce website development services in Rawalpindi are intended to assist businesses in developing an online storefront that is one-of-a-kind and unique to their company, as well as one that satisfies any particular requirements they may have. Whether you want to start from scratch and develop an online store or renovate an existing eCommerce website, the professionals on our team will work directly with you to devise a solution tailored to your specific goals and objectives. Our services for building bespoke eCommerce websites include unique design, custom functionality, and integration with third-party systems.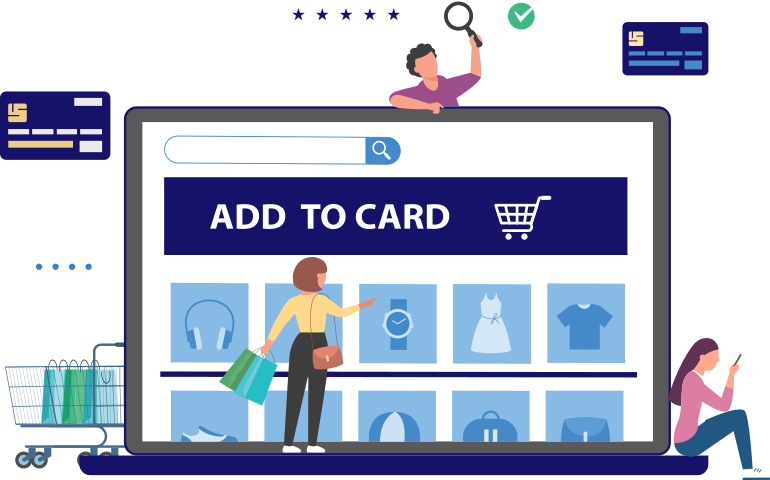 Template-Based eCommerce Website Development
Our eCommerce website building services, based on pre-designed templates, offer businesses a quick and affordable method to establish a credible online storefront. Our team of specialists will work with you to select a template that complements your brand and satisfies your particular requirements. Then they will tailor it to your particular preferences after making the selection. Our services for building template-based eCommerce websites include bespoke designs, tailor-made functionality, and bespoke interaction with third-party systems.
Pre-Built eCommerce Platform Integration
In addition, Sol Freaks provides integration services for pre-built eCommerce systems, such as Magento, Shopify, WooCommerce, and others, to assist businesses in making the most of the numerous advantages offered by eCommerce platforms. Our industry professionals will consult with you to determine the most appropriate platform for your company, after which they will either integrate it with your current website or construct a brand-new online store from the ground up. Our services for pre-built eCommerce platforms integration include bespoke designs and functionality and bespoke integration with third-party systems.
Services We Offer
Empowering your online business with every click.
Contribute your ideas by working with our dedicated group. The Sol Freaks will support your efforts to reach the highest possible levels of development and thought.
Having a website is a professional technique to increase a company's worth. Encouraging small and medium-sized enterprises to display their work online to get more clients is a huge victory.
The services we offer are listed below:
WordPress WooCommerce services
To ensure the online success of businesses of all sizes, Sol Freaks provides complete WordPress WooCommerce services. Experienced in all aspects of the WooCommerce platform, our staff is committed to providing advanced, easy-to-use eCommerce options.
When it comes to online stores, WooCommerce is a top contender. It's simple to implement and modify, giving companies everything they need to establish a strong web presence. With an appreciation for WooCommerce's potential, Sol Freaks is dedicated to providing first-rate WordPress WooCommerce support.
Sol Freaks is the company for you if you're seeking a partner to help you build a successful online store using WooCommerce.
Shopify eCommerce
It's no surprise that Shopify is one of the most widely used eCommerce platforms available today. It's simple, adaptable, and equipped with everything a company needs to flourish in the digital sphere. Sol Freaks is fully aware of Shopify's potential and is dedicated to providing the highest quality Shopify eCommerce development services in Rawalpindi.
To assist businesses in making the most of the features offered by the Shopify platform, Sol Freaks also provides theme customization services. In addition, Sol Freaks provides Shopify theme customization services so businesses can take full advantage of the platform's features. Businesses interested in utilizing the Shopify platform to its fullest potential would profit significantly from the Shopify migration and upgrade services.
Why Choose Sol Freaks?
You need to establish a relationship with a reputable eCommerce solution provider to boost the chances of the success of your online business. It is possible that locating a trustworthy eCommerce business will be difficult when there are so many possibilities available.
Our skilled staff at Sol Freaks has worked in the eCommerce business for years, and we are committed to providing you with the most efficient eCommerce solutions available. For the operation of our internet businesses, we make it a point to use the most innovative strategies consistently. We are dedicated to providing specific, cutting-edge eCommerce development services in Rawalpindi.
Suppose you are seeking for a partner in Rawalpindi to assist you in accomplishing your digital goals. In that case, Sol Freaks is the eCommerce development company in Rawalpindi that you should work with. We are the ideal business partner for enterprises of any size thanks to our extensive knowledge, cutting-edge methods, and commitment to offering the highest possible quality of customer service.
Contact Sol Freaks to learn more about our eCommerce development services in Rawalpindi.